Surside Surenos Application Form
Current character name:
Yoe_gutierrez
Previous character names and accounts:
Yohan_Sun
Previous factions or civ gangs:
None in this server
Post a screenshot of your stats: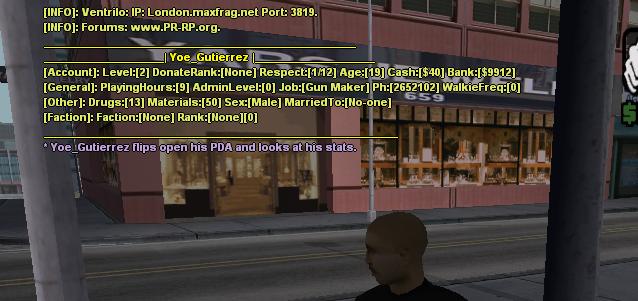 Time playing in PR:RP (in days, weeks, or months):
Almost a week
Country:
Born in Cuba, live in Norway
Age(IRL and IC):
19
What level are you in game:
2
How often do you play in the server:
Everyday more than 4 hours
Do you know how to install mods for san andreas? If so, you must have the gang skin pack.
Yes, with IMG Tool or with a .SAMI ( If a SAMI file is included )
Have Surenos modpack v2 installed
Characters street name:
Big Y
Which neighbourhood is your character from (World-Wide) ?:
San Fierro
Where was your character born?:
Mexico City
What parents does your character have, and where were they born? (City and country):
Yoe's family was born and died in Mexico city
What surenos are for you?:
Brothers for life
Character story: ( Must be atleast 2 paragraph, and 200 words)
I was born on 17th September in 1990 year in Mexico City, Mexico. Father was 21 year old. He was working as Trucker. Mother was 20 years old, she was working as a fruit worker. When I was 11 years old, my grandfather was killed.
In memory of grandfather my parents made a Tattoo to me. 4 Years later, my best friend and his family were killed in front of my eyes. It was awful.
When I was 16 years old I leaved Mexico City, because the same gang members that killed my grandfather and my best friend had started looks after me. I escaped to Los Santos. There I lived 3 years. I found there new friends and I forgot about grandfather and my best friend death. On my 19 birthday I've saved up enough money to survive, selling drugs, gun and doing illegal jobs. I stopped doing illegal jobs and started thinking about living a better life, so I started working a Mechanic.
Everything seemed to be fine, but it wasn't, one night I got a call by a gang member that needed me to repair his car, so when I came he gave me two shots twice in the legs. I thought I was going to die, but after 2 hours a big man with a blue bandana came over to me and asked if I was ok, but I couldn't speak English very well. But the man was Mexican like me, he dragged me into his car and took me to his gang, they told me that I had to be careful in LS and never trust anyone.
Now I keep working illegal and still hanging with my Mexican homies. Now, 19 years old and I'm here in Los-Santos.